Back

to program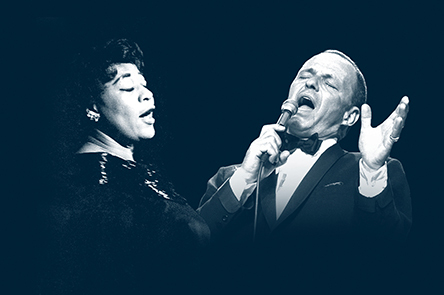 Ella & Frank with Sylvie Desgroseillers and David Marino
ORCHESTRE NATIONAL DE JAZZ (DE MONTRÉAL)  
Saturday, October 15, 2022
Presentation of the student card on the evening of the concert.
ATTENTION – Concert canceled 
Under the direction of Ron Di Lauro, the Orchestre national de jazz (ONJ) and the ONJ String Ensemble (ECO) will present their first "Jazz Studio Orchestra" concert on October 15 at Salle Claude-Champagne. This concert involving 45 musicians is devoted to two sacred song icons: Ella Fitzgerald and Frank Sinatra. The parts will be played by the great Sylvie Desgroseillers and the young revelation, David Marino. The concert will include works from the "Ella Fitzgerald Sings the George and Ira Gershwin Songbook" series as well as several of the best-known and most iconic works from Frank Sinatra's career, all orchestrated by Nelson Riddle.
As the ensemble in residency at the Faculty of Music of the Université de Montréal, the ONJ will perform the winning piece of the 2nd edition of the Sophie Desmarais International Composition Competition for Large Jazz Ensemble.
This concert is presented in collaboration with L'OFF Festival de Jazz.