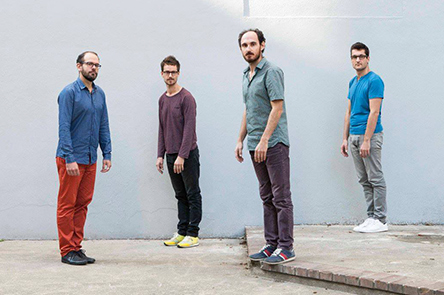 Big Four
Thursday, October 6, 2022
Big Four is a quartet founded in 2009 by saxophonist Julien Soro. The singular line up of this quartet with two wind and two percussion instruments (saxophone/sousaphone and vibraphone/drums) reveals from the very first listen an original group sound and a palette of tones rarely explored by such a group. Julien Soro's compositions become over time a field of collective exploration where spontaneity and rhythmic profusion are at the centre of the debate. The musicians of Big Four are looking for that space between awareness and relaxation which would allow them to give movement to the sound. Returning to that childlike state where "play" is omnipresent…
Big Four will invite a Quebec jazzman to join them on stage.
Julien Soro - Composition, alto saxophone
Stéphan Caracci - Vibraphone
Fabien Debellefontaine - Tuba
Rafaël Koerner - Drums

Venue
Thursday, October 6, 2022 - 10:00pm
Regular - General Admission:

$

30
! Access to the concerts presented at Dièse Onze (514-223-3543) and Upstairs (514-931-6808) will be by prior reservation directly with the venues or through the Le Point de Vente box office. Places are limited; reserve your seats today!