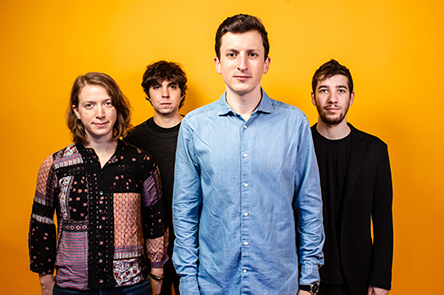 Andrew Boudreau 4 – Neon
Thursday, October 13, 2022
Andrew Boudreau is active in the North American and international jazz and creative music scenes. In 2019, he was the winner of the Jacksonville Jazz Piano Competition (formerly the Great American Jazz Piano Competition). Recipient in 2013 of the National Arts Centre Astral Award and in 2016 of the OPUS Award for Concert of the Year – Jazz and World Music with the Rémi Bolduc Quartet, pianist Andrew Boudreau has performed with a wide range of musicians and ensembles such as the Orchestre national de jazz de Montréal with David Binney, soprano Measha Brueggergosman and the Altsys Jazz Orchestra.
Quebec – New York
Neta Raanan - Saxophone
Andrew Boudreau - Piano
Simón Willson - Double bass
Eviatar Slivnik - Drums

Venue
Thursday, October 13, 2022 - 10:30pm
Regular - General Admission:

$

24
! Access to the concerts presented at Dièse Onze (514-223-3543) and Upstairs (514-931-6808) will be by prior reservation directly with the venues. Places are limited; reserve your seats today!
More concerts
More than 30 concerts are scheduled. Join us from October 6 to 15 for the next edition of the festival!
Back to program